Madison wedding photography is so much fun! Jenna and David had the most beautiful wedding, and were certainly lucky the rain stopped just in time for their special day. Of course with the church being downtown, we had to stop at Monona Terrace for some photos.
Look at Jenna run! I can't believe everyone made it up the entrance without tripping or breaking a heel!

Apparently David is well-known by his friends and family for jumping over things. He easily cleared both Jenna and the flower garden!

We also walked to the capitol building: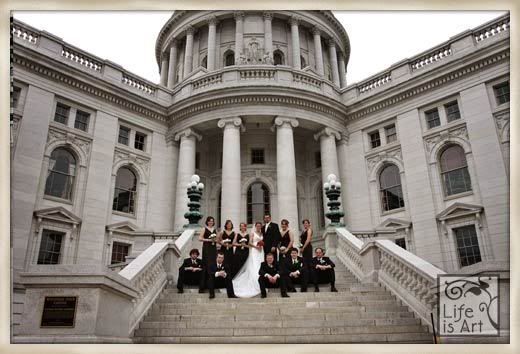 Still at the capitol, Jenna and David noticed a firetruck driving by. With waving and cheering, the bridal party flagged down Madison's Engine #3 — we had a great time climbing all over the truck for photos! Thank you to the four firemen who allowed us to have so much fun, and gave David and Jenna a very memorable wedding day!